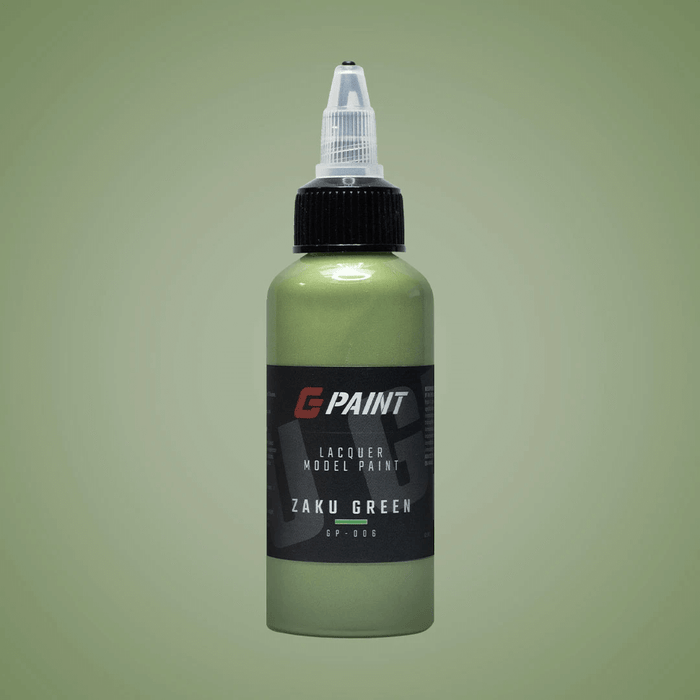 GPaint Zaku Green 65ML
Original price
R189.95
-
Original price
R189.95
GPaint lets you paint and create your model kits like a professional, without the need of a primer, experience the or hassle of getting the "paint to thinner" ratio right. We've created a special recipe to make the new GPaint the toughest paint out there, and it's also scratch resistance to protect your kits.

Get your unique colors by combining two or more GPaint colors to give your kit a customized look! Now painting is easier than ever. Let GPaint take care of the paint while you focus on painting.

FEATURES:
• Lacquer based paint
• Primerless
• Scratch Resistance
• 65ML (Good for 3-4 kits)
• Use straight out of the bottle
• Pre-thinned and optimized for airbrushing
• Suitable for hand painting
• Comes in 8 colors
• Create your colors by mixing GPaint straight out of the bottle
• Beginner-friendly
• Good for all types of model kits (Gunpla, Military, Mini Figures)
• In compliance with all of the safety and health hazard codes

WHAT'S IN STARTER PACK:
GPaint Black X 1
GPaint White X 1
GPaint Red X 1
GPaint Yellow X 1
GPaint Blue X 1
GPaint Zaku Green X 1
GPaint Gun Metal X 1
GPaint Dark Iron X 1
Color Mixing Chart X1
Thank You Card X 1
Sticker: StudioG X 1
Sticker: Never Stop Building X 1

HOW TO STORE:
Store tightly capped and away from direct sunlight. Use in a well-ventilated room and away from open flames.

DIRECTION OF USE:
Start by shaking the bottle well. Make sure that it is well mixed, and unscrew the bottle cap to remove the paint seal. Screw on the bottle cap securely and unscrew the transparent part of the cap. Start pouring the paint in your paint container or straight into the airbrush color cup to painting or airbrushing.

TIPS:
1. GPaint is formulated for universal use, hence please experiment with different PSI when airbrushing to find the optimum flow for your airbrush. Recommended to try with 15psi and slowly work your way up to 40psi.
2. GPaint will work fine with airbrush size ranging from 0.2mm up till 0.5mm with varying PSI.
3. The primerless feature allows you to skip priming entirely to save time and money. However, if you're painting red, yellow or warm colors over dark parts of your kit, please paint a coat of white as a base for the colors to truly shine. Other than that, you're good!

GPAINT INSTRUCTIONAL VIDEO:
How To Use:


Scratch Test:


How To Mix Custom Colors:



The Ultimate GPaint V2 Review from our own local is lekker Kelga Creations!


GPAINT COMMUNITY:
Join the ever-growing GPaint community for free on Discord to learn more about GPaint, exchange tips, and tutorials. Join here: https://discord.gg/v6e7fMxbbB