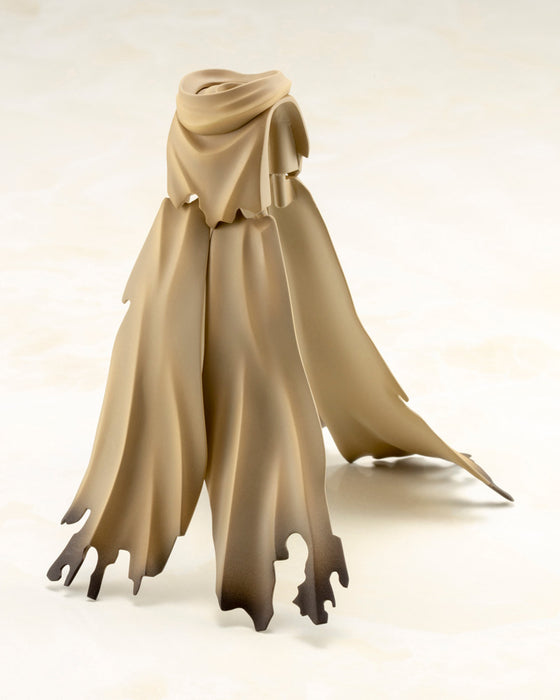 Dress-Up Parts Crush Cloak
Backordered
Original price
R599.00
-
Original price
R599.00
A new Kotobukiya line allows you to dress up your character model kits!
After receiving numerous requests from our fans, the first entries in the new "Dress Up Parts" line of model-kit accessories are cloaks that can be used with your character models! These cloaks can be attached to the front or back of your "Frame Arms Girl" and "Megami Device" kits. The cloak is made of plastic, allowing us to create details such as wrinkles and a frayed hem that give it a bold and unique appearance. The cloak can also be painted or cut to create even more unique custom details. Compared to a fabric cloak, this plastic cloak provides endless customization possibilities that are sure to please experienced modelers. The kit can be combined with the separately sold Side Cloak to create a full cloak for your characters. The base cloak and sub-cloak parts are connected with movable joints, giving them the flexibility to accommodate a variety of action poses.
[Model Specifications]:
The surface of the cloak is coated with a matte finish, giving it a realistic texture.
The kit includes two scarf parts for the "base cloak" that can be changed out to show the character's neckline or hide their mouth.
The "sub cloak parts" that can be connected to the front or back of the "base cloak" use the same flexible ball joints.
The kit includes four different "sub cloak parts" that include a left and right part of two different lengths. All of the parts use the same ball joint, allowing them to be attached to any part of the base cloak.
This kit was planned together with the separately sold "M.S.G Dress Up Parts Side Cloak" and the sub-cloak parts for both kits are interchangeable.
The Crush Cloak can be combined with the Side Cloak to create a cloak that fully covers the model's body.
[Set Contents]:
Base cloak part
Interchangeable scarf for base cloak
Sub-cloak parts, short version (x2) (left and right)
Sub-cloak parts, long version (x2) (left and right)
Figures shown are not included.