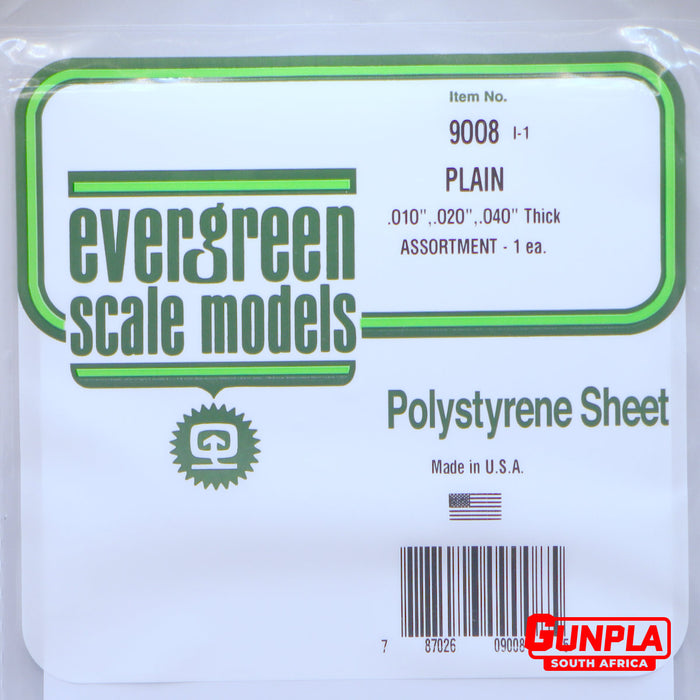 Evergreen 9008 White Sheet Assortment 150x300mm 1 each 0.25, 0.5 and 1mm
Original price
R184.00
-
Original price
R184.00
Cutting

Score polystyrene sheets with a sharp razor knife on one side and break the sheet on the scored line. Thin sheets and strips can be cut through with a very sharp knife or single edge razor blade.
Wood Grain
The appearance of wood grain in the surface is easily simulated by rubbing a piece of course sandpaper over the polystyrene in the direction of the grooves. This is easier to do when the polystyrene is still in a large sheet. By wiggling the sandpaper slightly, a surprising realistic effect of weathered wood is possible. A light rub with grit paper will remove any fuzz.
Painting
Spray painting provides the best finish on polystyrene particularly when the model represents well maintained wood sheathing or a metal surface. All types of model paints can be sprayed directly on polystyrene. Acrylic paints such as those made by Badger or Tamaya can be directly applied to the polystyrene following a cleaning of the surface using alcohol. Also paints made by True Color are ideal for airbrushing as they are pre-thined and should not be applied by brush. Paints such as Polly S or paints for military miniatures work well when brushed directly on polystyrene. The paints for military models provide a wide range of colors that are excellent for structures.
Weathering
Nearly any type of weathering can be applied to painted polystyrene surfaces. The same type of paint used for the basic color can also be sprayed to simulate mud and grime. The model can also be weatherized using casein, pastel chalk, acrylics or leather dyes in alcohol.

A weathered wood appearance is easier to achieve if a wood grain finish is applied to the polystyrene before painting. Then a thin wash of a darker color can be applied to the highlight the grain.