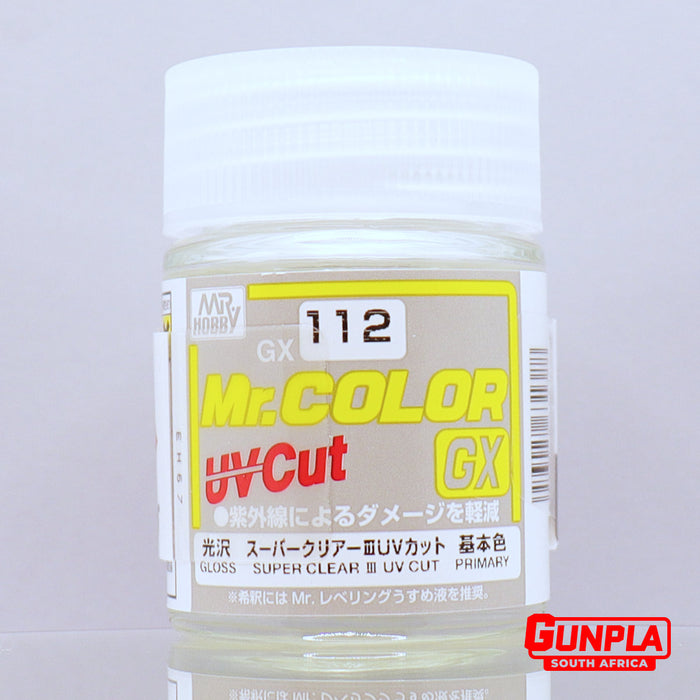 Mr. COLOR GX112 Gloss Super Clear III UV Cut 18ml
Original price
R99.00
-
Original price
R99.00
"Mr. SUPER CLEAR UV CUT" spray B522 and B523 on sale now with great reviews and now available in bottle form.
The UV cutting compound contained protects the work from sunburn or yellowing due to UV rays.
About Mr. COLOR Paint Series
Mr. COLOR paint from Mr. HOBBY is one of the highest quality lacquer solvent-based acrylic paint in the world, with amazing tone, balance, adhesion and colour richness. This fast-drying paint is great for both hand brushing and airbrushing.
Thinning Recommendations
Thinned using Mr. COLOR THINNER, Mr. COLOR LEVELING THINNER or Mr. RAPID THINNER, with a thinning ratio for airbrushing from 1:1 to 1:2 (Paint to Thinner ratio).
Mr. COLOR LEVELING THINNER has added retarder over the standard Mr. COLOR THINNER, allowing for a smoother, enhanced finish.
Mr. RAPID THINNER is designed to reduce drying time, particularly when airbrushing.
This thinner also enhances metallic Mr. COLOR paints by allowing them to quickly dry before the metallic pigments settle resulting in an improved metallic finish.
However, it is not recommended for gloss colours as the reduced drying time may reduce the gloss effect.
Safety Warning
Solvent-based paint contains harmful fumes and air particulates when airbrushing. When working with paint of this type, please ensure your workspace is well ventilated and a suitable paint respirator must be worn at all times.
Check out the in depth tutorial from the awesome Barbatos Rex! How To Use Mr. Color Lacquer Paints - Brush & Airbrush Technique